Alumni Spotlight: Senator Bob Graham
Life in Sigma Nu Comes Full Circle with Grandson's Initation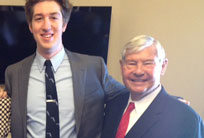 Bob Graham and his
grandson, Mark Logan

When Daniel Robert "Bob" Graham joined Sigma Nu, he had no idea just how important these brothers would be in the years to come.

Senator Graham entered the political arena in 1966 when he was elected to the Florida House of Representatives and later in 1970 to the Florida State Senate. But his campaigning, backed by the help of Sigma Nu brothers across the Nation, started long before that. "My brothers were an integral part of my post-collegiate life. The value doesn't subside once you graduate. I would call and say, 'I'm coming to your town and I would like to meet new people to start my campaign. Could you put something together?' Without exception the answer was always a 'yes.' Sigma Nu brothers were my first network of supporters that launched my election as governor."

His acclaimed success didn't stop there. In 1979 he was elected as the 38th Governor of Florida. He joined the U.S. Senate in 1987, serving on the environment and finance committees for 18 years. During this time, several of his Sigma Nu brothers served with him in Tallahassee and in Washington D.C. in many capacities. Senator Graham worked on the Senate Intelligence Committee for 10 years, chairing it during the 9/11 tragedies, and was a candidate for President in 2003.

Since then, he has published several books including WorkDays — Finding Florida on the Job. This documented his 100 work days while running for governor. He continued this dedication of work days throughout his political career. Intelligence Matters documented his work on the Senate Intelligence committee. He followed this by co-authoring with Chris Hand, America the Owner's Manual: Making Government Work for You, and a novel, Keys to the Kingdom.

Recently, a fraternity brother and his wife, Jim and Alexis Pugh, were most generous to make The Bob Graham Center for Public Service a reality at the University of Florida. Many other Sigma Nus have supported the Graham Center which trains and educates the next generation of political leaders. His vision and accolades represent the Sigma Nu values of love, honor, and truth.

Today, the Senator's involvement with Sigma Nu has come full circle. His grandson, Mark Logan, is a member of his chapter. He can be very proud that his other grandfather, Frank Logan, was also a member of Epsilon Zeta and was Senator Graham's big brother in the Fraternity. "It's been a very warm experience becoming reengaged with Sigma Nu through our grandson," he shares. "It's reminded me of the many ways I benefited there – the opportunity to learn, to develop your own capabilities, to interact effectively, and to form long-time friendships," he continues. "Those are the real values of Sigma Nu."